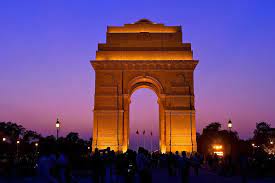 Our Chauffer will come to pick you up from your Hotel/Place to stay anywhere in Delhi. Our guide will meet you on the way to assist you for the entire tour activity of Delhi.
Flexible Pick up time.
Recommended Pick up time 8:00 am.
Old Delhi Monuments Includes
Red Fort: Built by Mughal Emperor Shaha Jhan in 1639. Here you will browse Mughal and Colonial Architecture at the same time.
Chandni Chowk: Moon Light Square which was designed by Princess Jahanara in 17th Century. Here you will browse one of the busiest bazaars of Old Delhi with Golden Mosque and feel the aroma of Indian Spice on the street
Jama Masjid: One of the largest Mosque in India inaugurated by Imam from Bukhara built in 1656 by Emperor Shah Jahan
Note: Before proceeding to New Delhi tour you will have lunch at the Restaurant.
New Delhi Monuments
Qutub Minar: UNESCO's World Heritage site which is one of the Tallest Brick Minaret made of red sandstone with beautiful Calligraphy inscriptions built around 1192.
Humayun Tomb: This is a tomb of Mughal Emperor Humayun and it was built by his first wife and chief consort empress "BEGA BEGUM".
It was the first garden-tomb on the Indian subcontinent.
India Gate: India Gate(Triumple Arch) is a war memorial to the 82000 soldiers of the undivided Indian army who died between 1914 – 1921 during the first world war and third Anglo-Afghan war.
Lotus Temple: Bahai House of worship notable for its flowers like shape completed in 1986 open to all regardless of religion or any other qualification has a capacity of 2500 people.
Presidential Estate: Enjoy a drive through the Parliament House, President House is formerly known as Viceroy's House official home of the president of India. Designed by the British architect Edwin Landseer Lutyens.